Sunday Sounds Presents FOLK LOVE
March 26, 2017 @ 7:00 pm - 10:00 pm
Event Navigation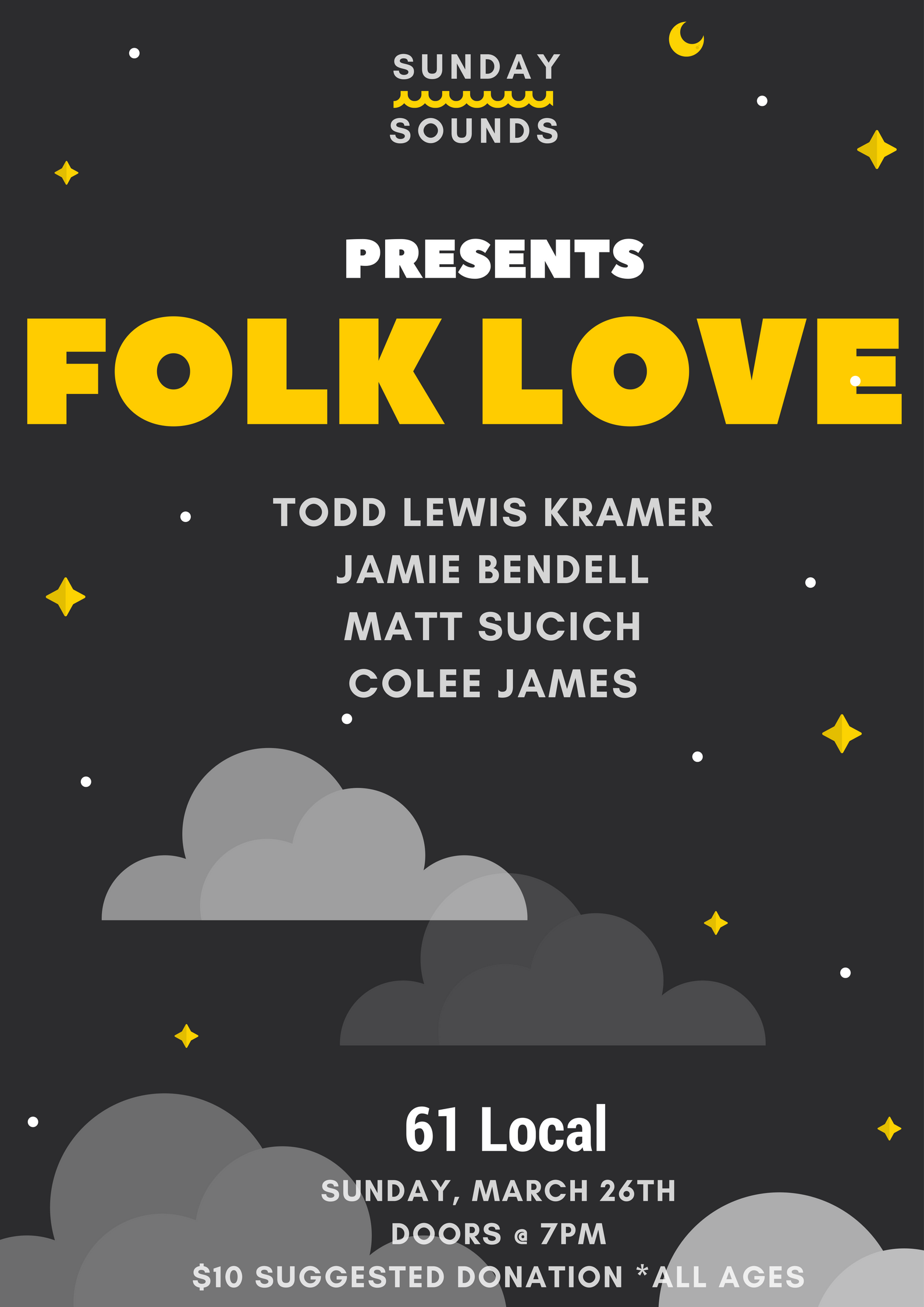 Sunday Sounds is 61 Local's weekly intimate Sunday night music series. Frustrated after playing a number of shows at various loud local bars, Jess Best developed the ideal creative space for performance – a place that is intimate, focused on listening, and really fostering a community between performers and audience. Each event is carefully curated to showcase up-and-coming musicians in a space where audiences can listen to and discover new music. This night is a special collaboration with a lineup of artists and collaborators that go by the name "Folk Love."
Todd Lewis Kramer – toddlewiskramer.com
Todd Lewis Kramer is a Brooklyn-based singer/songwriter, originally from the sleepy town of Woodbridge, CT.
While he counts 8 years of city livin' as a huge influence on his writing, Todd is always drawing from his more remote upbringing to create a nostalgic, Americana/Pop/Folk hybrid of his own.
2016 was Todd's most active musical year to date, with the release of his first full-length LP, "Fairground" — which One Country included in their "12 Albums You Should've Listened To In 2016" list — and he's already followed that up with a February release of his new single, "When the Snow Melts." You can find these and the rest of Todd's catalog across your streaming services. Do check them out, folks!
Jamie Bendell (of Hero House) — http://www.buildtheherohouse.com/
"Hero House is a new pop project led by Jamie Bendell, singer-songwriter and member of the band Plastic Cannons. Hero House was created out of an appreciation for the inimitable people and moments who have inspired her on her journey thus far. Hero House recorded their debut EP and music video "Pretty Tough" in fall 2015 and are back writing for a second release. "Pretty Tough" remains true to the sweet yet edgy contemporary pop sound that has made Jamie and her music so unique, while adding in lush synths and a more electric, chorus lean. The departure for Hero House then, is in its juxtapositional character of quiet strength, a direct reflection of the sweet talent behind it."
Matt Sucich – http://www.mattsucich.com/
"Matt Sucich writes songs mostly with a pen and sings them always with his face. Aren't bios silly?
Matt Sucich (pron: Sue-Sitch) is from Queens, NY and has appeared at Bonnaroo Music & Arts Festival in Manchester, TN (2012), Electric Lady's Heartbreaker Banquet on Willie Nelson's Luck, TX ranch (2015), Firefly Music Festival in Dover, DE. (2013), Newport Folk in Newport, RI (2015 & 2016), and The Midnight Ramble in Woodstock, NY(2009) as well as many other extraordinary stages.
Isn't that impressive?
Matt Sucich has supported & shared the stage with headline acts including, but not limited to, Levon Helm, Adam Duritz & Counting Crows, Lucius, Rachael Yamagata, The Lone Bellow, Hunter Hayes, Daughtry (really? yes, really) and Lewis Watson.
How about now? Impressed?
Matt doesn't complain about music streaming services so please, by all means, stream his music guilt free. For starters you should listen to his newest double A-Side single "Fire On Bowery/After The Fire" (available March 22nd,2017.)
Matt can't confirm or deny that he did not write this bio himself mildly buzzed on Bordeaux while watching "The West Wing."
-Matt…I mean not Matt. (Matt)"
Colee James – https://www.facebook.com/colee.james
"Colee James brings back the nostalgic sounds of 1960's classic country with a modern twist. Now a Brooklyn resident, She never strops drawing influence from her North Country upbringing in Wisconsin as she writes and plays shows all around the city. Last year Colee spent all her time tracking and recording eleven new songs on a farm in Woodstock, NY. You can look forward to the release of her first full-length album "Hymn for a Cowboy" this coming spring"
Have a public event that you think would be perfect for 61 Local? Email events@61local.com and tell us about it!