Sunday Sounds ft. Lohai, Camille Trust, and Vuyo Sotashe
November 12, 2017 @ 7:00 pm - 9:30 pm
Event Navigation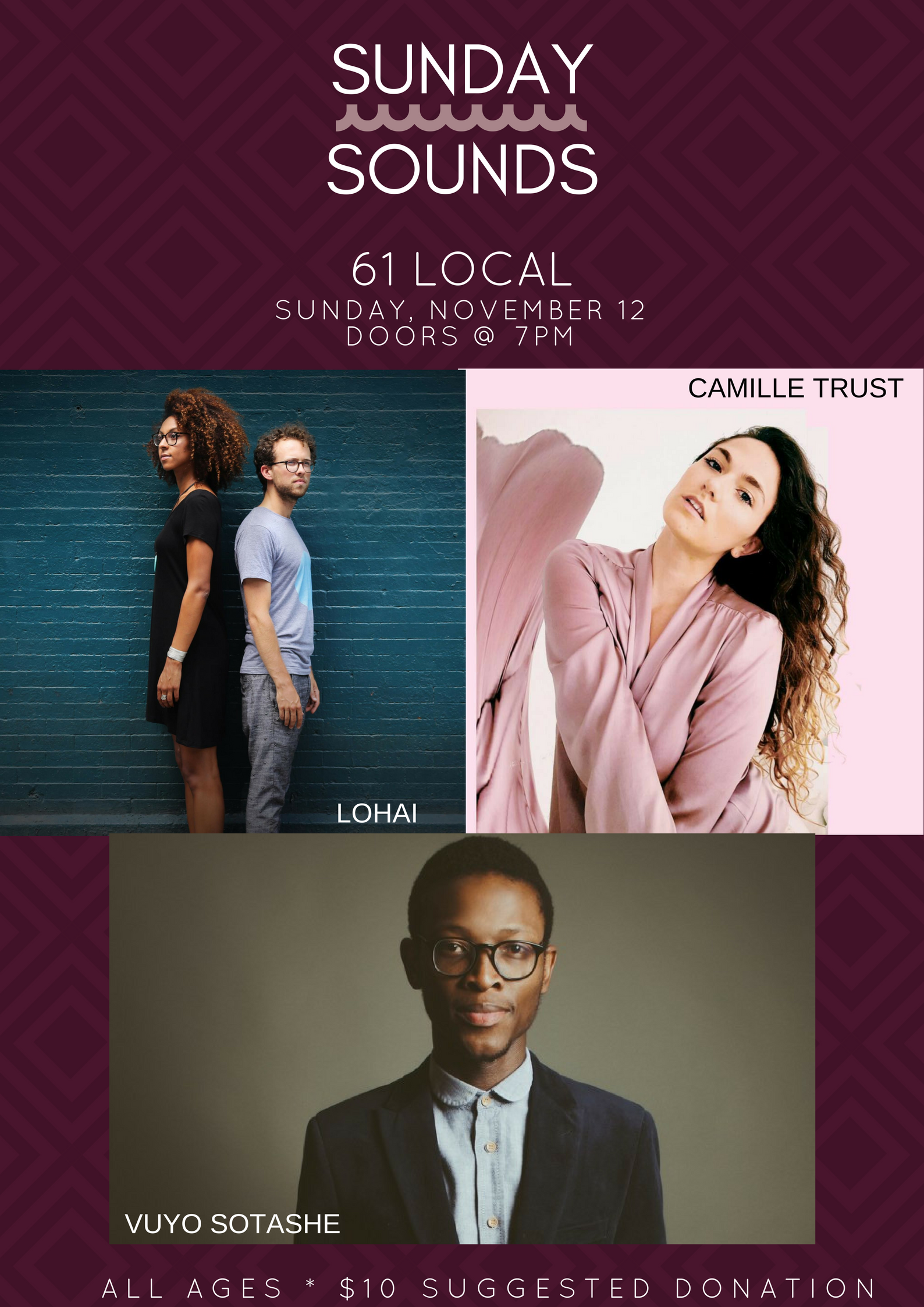 Sunday Sounds is 61 Local's weekly intimate Sunday night music series. Frustrated after playing a number of shows at various loud local bars, Jess Best developed the ideal creative space for performance – a place that is intimate, focused on listening, and really fostering a community between performers and audience. Each event is carefully curated to showcase up-and-coming musicians in a space where audiences can listen to and discover new music. Come and enjoy this special night with craft wine and beer, dinner and an up-close night of music!
$10 Suggested Donation
Doors at 7:00, Music hits right at 7:30pm!
All Ages
This night in the series features:
Lohai
http://www.lohaitheband.com/
https://www.youtube.com/watch?v=TIz7PChhPkI
Lohai is a new soul pop collaboration between Alita Moses and Devon Yesberger.
Camille Trust
https://www.facebook.com/camilleTRUST/
https://youtu.be/2OPVdW51ZAQ
Camille Trust is a soul/pop artist based out of New York City. The Florida native blends elements of R&B and Motown with soulful pop melodies that will leave you humming her tunes for some time after. Trust released her first single, "Wake Your Body Up" in late 2015 which is available on all musical platforms. According to William Ruben Helms of The Joy Of Violent Movement, "The single pairs Trust's effortlessly soulful vocals, which strangely enough are reminiscent of a young Lauryn Hill with angular, funk guitar, swirling electronics and hand clap-led percussion to craft a song that possesses an undeniable swagger and an infectious, arena-friendly hook that you can picture kids shouting along to in a music venue in the near future. Just from this single, I think this up-and-coming artist has quite a future ahead of her."
Camille Trust prides herself on creative, intricate harmonies matched with percussive rhythms and a bright stage presence. It is no question she is willing to give her entire heart and soul into her performance.#trust
Vuyo Sotashe
https://soundcloud.com/vuyosotashe
https://youtu.be/aIRdRmICHpo
Young South African jazz vocalist, Vuyo Sotashe, is gradually making his mark in the New York jazz scene and internationally. He recently graduated with a Master of Music degree at William Paterson University through the prestigious Fulbright Scholarship. He has gone on to win first prize at the very first Mid-Atlantic Jazz Festival Vocal Competition in 2014, and performed on the festival's main stage. Vuyo has also had the privilege to perform with George Benson with the Cape Town Symphony at the Cape Town International Jazz Festival, Grammy Award winning gospel artist Israel Houghton as part of New Breed Africa and he performs regularly with praised jazz drummer Winard Harper. Vuyo's music is deeply influenced by South African Xhosa, gospel music and the vast jazz tradition.
Have a public event that you think would be perfect for 61 Local? Email events@61local.com and tell us about it!