Premiere Screening of "Influencer": A New Comedic Miniseries
February 22 @ 8:00 pm - 10:00 pm
Event Navigation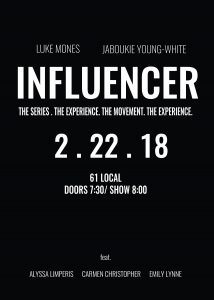 "Influencer" is a new 6 episode miniseries that follows Luke Nelson
(Luke Mones), the creator of a 2007 viral video which launched him to internet stardom. Now-a decade
later-Luke is an irrelevant laughingstock and has-been. Fueled by ambition and sheer idiocy, so he
attempts to break into the world of Gen-Z social media influencers.
The series was created by Luke Mones and Steven Tooke and is produced by Cassie Grimaldi,
Mones, and Tooke, and directed by Tooke. The series stars a variety of up and coming NYC comedians,
including Mones, Jaboukie Young-White (The Tonight Show), Carmen Christopher (Comedy Central),
Alyssa Limperis (The Scene), and Emily Lynne (Netflix's Friends From College). The show also features
Conan vet Brian McCann.
*Doors at 7:30pm
Have a public event that you think would be perfect for 61 Local? Email events@61local.com and tell us about it!